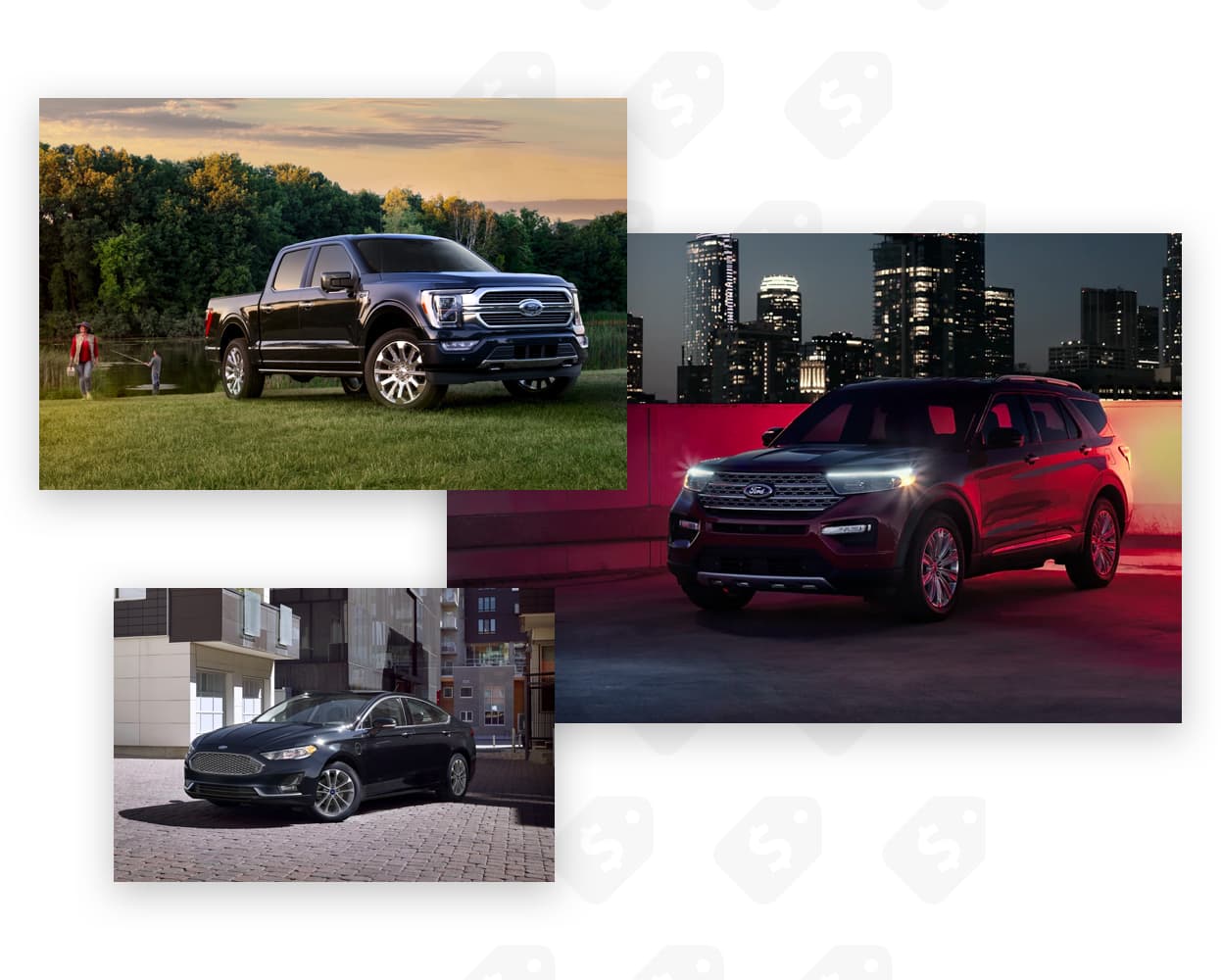 Take Advantage of This Month's Current Offers
Every month Ford releases incredible cash-back offers and special financing rates along with discounts featured in other special programs.
We're Here For You
Sam Leman Ford always puts customers first!
Don't take our word for it: Read our reviews and see what everyone is saying.
Walked in and Adam Simpson got the deal done quickly for us. Followed up to make sure all went well with the chipped windshield.Thanks again
My experience there was awesome I was very nervous and was taking my time. And jarrod was very Patient with me.Also was helped me make a decision that would be better for me. Which I really appreciate him for the help and being patient.
Excellent experience . Jarrod was great to deal with! They made an out of state purchase very easy. I would do it agin , thank you so much!
Great service, i bought a truck with help from Adam, he gave us awesome service, very honest dealership. Overall great experience, will definitely be buying cars from them in the future.
Gary Lowe and everyone there were extremely helpful. 0 hassle and I was able to drive home I'm a new car extremely fast. Thanks again!
Great easy to deal with offering great trade in prices. Followed up to make sure we are happy and to complete the work they promised when buying the car.
Our salesman (Adam) made this the best car buying experience we've ever had. He was very upfront about pricing and took the time to answer our questions, showed a strong knowledge of the Bronco model line. Fastest buying experience ever!
This was a flawless experience. Adam Simpson is authentic and friendly. We purchased a Mustang convertible at a very fair price. We also worked with Amy she made it fun sighting all the paperwork. Will refer friends to this dealer.
Bob Rowe continues to be go to person for finding vehicles. Recently had friend looking for a specialty work truck and Bob was able find what he needed.
All of our dealings with Sam Leman Ford in Bloomington Illinois has been done through the service department with Aaron K. In 2016 when my grandson was 11 years old I bought a 2001 Ford Sport Trac which my grandson helped me work on to make it his when he turns 16 years old. June 2022 after he had turned 16 and had been driving for a while We titled the 2001 Ford Sport Trac to his mom in Bloomington Illinois. From 2016 to 2022 I drove the truck very little and kept it in a heated garage most of the time. After my grandson had the truck for a while it developed oil leaks, trans leaks, and coolant leaks from daily driving. I contacted Sam Leman Ford and spoke to Aaron K. in the service department. He had a complete overall check of the truck and contacted me on all that had to be done to fix the truck. Everything was fixed and everything was great until a replaced part developed a tranny leak which went unnoticed by my grandson. The tranny was acting up and not shifting properly. I do not live in Bloomington but relied on several friends that do and have always had a positive experience at Sam Leman Ford. That was the reason I decided to use Sam Leman Ford for my grandson's truck. Through my contact with Aaron K. in service and him talking to the owners it was decided by them to rebuild the transmission at no cost to me in good faith. As a 74 year old grandfather and grandmother we have over our years never experienced this kindness even with the dealership we have bought all our cars from in our town for the past 48 years. My message to all is buy from Sam Leman Ford in Bloomington Illinois for the best service available for your vehicle!!! Dr. GF
I purchased a 2017 Hyundai Elantra from Sam Leman Ford and it was one of the easiest car buying experiences I have ever had. Gary Lowe helped me find the car that was perfect for me. Answered all my questions and was completely transparent with me. Really treated me with respect and always looked out for my best interests. I am very impressed with the customer service and quality of vehicles, and will be back again for my next purchase.
I purchased a 2017 Hyundai Elantra from Sam Leman Ford and it was one of the easiest car buying experiences I have ever had. Gary Lowe helped me find the car that was perfect for me. Answered all my questions and was completely transparent with me. Really treated me with respect and always looked out for my best interests. I am very impressed with the customer service and quality of vehicles, and will be back again for my next purchase.
I recently worked with Gary to purchase a Mustang Mach E. The process to buy my EV was incredibly easy and Gary was great to work with. I'm very happy with everything so thanks to the team at Sam Leman Ford
DeAndre is my go to salesman for all of my cars and Tyler has always been a great manager to work with. They have always met and frequently exceeded my expectations when making deals and any issues small or big with cars have always been resolved immediately and fully. I will continue using them for all of my car needs.
Leman Ford had exactly what I was looking for and Bob Rowe was a great sales rep--knowledgable, helpful, answered all my questions. And I was impressed that he followed up after the sale, to be sure I was happy with my buy. First-rate service!
Bought a new F250 in February 2022 and it arrived in November 2022. Sam Leman Ford was always helpful and would pull the info requested (like the vvr) so I could see updates. Worked with Bob Rowe.
After an extensive search to find a vehicle for my family we found something at Sam Leman Ford. And Bob Rowe took very good care of us . Explained the difference of vehicles and guided to the one that fit is best. And it was the lower cost of the two. And the rest of the team treated us well also. We now have four flavors of Ford SUVs in our Family Garage. Keep sharing Smiles. Thank you
I worked with Bob Rowe at Sam Leman ford in Bloomington on the purchase of a 2022 F 250. From the initial contact to driving the vehicle off the lot Bob and the entire staff at Sam Leman were excellent. I flew into Peoria from out of state and was picked up at the airport by a dealership employee, shuttled to the dealership and was in the road driving home in no time. If you are in the market for a new/used vehicle I only have good things to say about my experience.
We are very happy with our 2022 F-150 we purchased at Sam Leman Ford. We were impressed with the customer rapports of our Salesman Mason Witzke and with Brant Rushton (who walked us through processing our finance options). Mason made sure the truck was prepped for us to take home, answered all our questions, covered all the functionality of this truck -- and took time to show us how to use them.
I took a test drive with Jim Zehr, and he explained the vehicle's features. Then we had an easygoing discussion and came to a good deal.
Bob Rowe is a salesperson I can trust to listen to what I need and find the vehicle to match. Good dealership with an excellent salesperson - takes the stress and worry out of getting a vehicle.
Sam Leman Ford was very responsive and efficient. Mason Witzke and his team are very knowledgeable and helpful. I would recommend working with them for your next vehicle purchase.
My Aunt Julie just bought a new Bronco from Tom and doesn't do well on computers but wanted to let you know now nice it was working with him. He never even attempted to pressure me into making a decision when I was there. He took his time to make sure that I felt I made the right choice between the Escape or the Bronco. And I was so happy with how he treated me. Love my Bronco.
Big thanks to DeAndre Riley for helping me in purchasing my new 2022 from you . DeAndre took excellent care of me . I been purchasing vehicles from Sam Leman Ford for over 15+years. I highly recommend Sam Leman Ford , you will not be disappointed.
I worked with Jim at Sam Lehman Ford to purchase a used 2020 Mustang GT Premium, and I honestly couldn't be happier with my purchase. I was traveling from out of town to purchase the car, so since I couldn't see it in person in advance, I had a lot of questions and concerns. Jim was incredibly patient while working with me and made sure that I was comfortable with the car, and the purchase terms prior to driving in. This is the first time that I have bought a car that I didn't have some sort of regret upon leaving. Can not thank Jim and the team at Sam Lehman Ford enough.

Welcome to Sam Leman Ford
The team at Sam Leman Ford would like to welcome you to our Ford dealership in Bloomington! There are many car dealerships in Bloomington, and we're glad you chose us. With the latest new Ford models in stock and a wide selection of used cars for sale, we're confident that drivers from Normal to Champaign will be able to find their ideal vehicle for an affordable price. If you're searching for a new vehicle, explore our extensive new Ford inventory!
We offer the latest and greatest options at our Ford dealership in Bloomington, IL. If you're sticking to a strict budget, you can get a great deal on a dependable used car as well. No matter what type of vehicle you choose, the Sam Leman Ford professional finance team will help you get settled with a competitive financing or lease plan. Read on below to learn more about what separates us from other car dealerships in Bloomington, IL!
Explore the New & Used Vehicle Inventory at Sam Leman Ford
Sam Leman Ford is a new and used car dealership wrapped into one. If you're looking for a new model, our Ford dealership has plenty of options for you. Explore the new Ford F-150 truck, new Ford Explorer SUV, and more. Our sales team will help you decide which is best for you! And there may be other used car dealerships in Bloomington, IL, but you'd be hard-pressed to find the vehicle selection that we offer.
Whether you're looking for a used Ford in Bloomington, IL, or a pre-owned vehicle of another make and model, we're confident you'll find something at our Bloomington dealership. When you're ready, visit us near Decatur to take a test drive at your convenience! While you're here, you can work with our experienced finance team to seal the deal. Feel free to apply for financing online to kick-start the process.
Incredible Financing & Leasing Options at Our Ford Dealer in Central Illinois
Unlike other car dealerships in Bloomington, IL, we work hard to make sure that YOU get the best deal. We aren't interested in making a quick buck. In fact, we're determined to guide you to the right vehicle at the right price for your budget and lifestyle. When you need an affordable Ford near Bloomington, IL, Sam Leman Ford is the place to shop.
As mentioned above, we have expert financiers standing by to help you select the right financing or leasing option for your needs. Best of all, we offer rotating new and used vehicle specials to help you save big on a Ford in Bloomington, IL! Last but certainly not least, we provide expert shopping tips so you can upgrade like a true professional. Shop and save with us today!
Rely on Our Ford Dealership for Maintenance & Repairs
As your full-service Ford dealership in Bloomington, IL, Sam Leman Ford offers a state-of-the-art service center staffed with techs trained in Ford models and experience working on all cars around Bloomington. Whether or not you drive a Ford, you can rest assured that your vehicle is in good hands at our Bloomington dealership.
Need an oil change for your Ford F-150? Is your used Ford Taurus giving you trouble? No matter the problem, you can expect our expert technicians to get the job done right the first time. And we always use genuine OEM parts for repairs. Schedule an appointment today!
Visit Our Bloomington Ford Dealership Today!
For years, Bloomington drivers have counted on the high-quality vehicles and services found at Sam Leman Ford, and we look forward to living up to our reputation every day. Stop in and see us today, or contact our staff with any questions! For any further questions, or to schedule a test drive, don't hesitate to give us a call at (309) 245-0766 or (309)245-0312, or stop by our dealership. We look forward to being your new and used car dealership of choice in the greater Springfield area!
Contact Us
Sam Leman Ford
1508 Morrissey Drive
Bloomington, IL 61701
Sales:
309-807-0859
Service:
309-590-3293
Parts:
309-807-9815
Directions