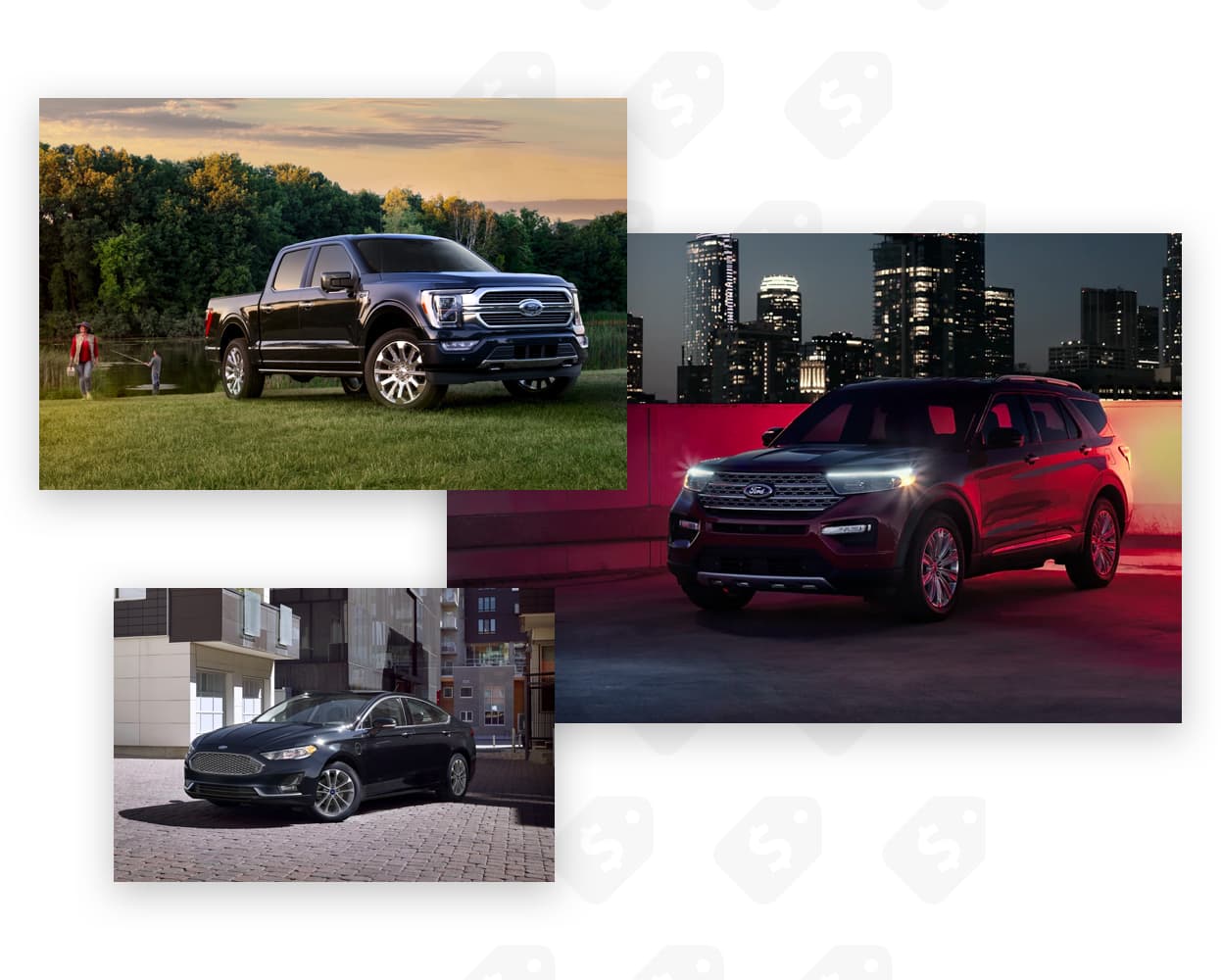 Take Advantage of This Month's Current Offers
Every month Ford releases incredible cash-back offers and special financing rates along with discounts featured in other special programs.
We're Here For You
Sam Leman Ford always puts customers first!
Don't take our word for it: Read our reviews and see what everyone is saying.
This is the second vehicle we have had the opportunity to buy from Sam Leman and Bob Rowe. We appreciate their help and swift responses!
I had a very nice experience with Jimmy and Sam Leman Ford. They worked hard to get me the vehicle I really wanted and it didn't take long at all. Love my new Jeep! Thanks so much!
I had a wonderful experience with Sam Leman Ford in Bloomington. Tom Smith was excellent in helping get the information needed for my purchase as well as working to get me the best deal for my purchase. I would recommend people come check out Sam Leman Ford.
It was a pleasure working with Mark Lister and all of the Sam Leman Team. Financing was seamless and fast. Would Highly Recommend to anyone.
Jarrod Baxter helped us buy the car that we saw online, as well as giving us a great deal on our trade in. Amy in finance was great too! It was a flawless experience. Thanks Sam Leman Ford!!
We had a great experience at Sam Leman Ford. Mark was very kind and full of information. Such a great gentleman. My wife and I had a great experience with Mark and the dealership. Would definitely recommend to anyone.
I went car shopping at Sam Leman Ford to look for a new vehicle. Thanks to my friend Andrea Villagomez who helped me with the appointment. I was greeted by Jerry DePaz, who made me feel comfortable at the showroom. He showed me around and guided me through the available cars there. I must say that this was my best car shopping experience ever. The Jerry was very informative, and he was answering very question patiently. Also, he speaks Spanish! Highly recommend.
Sam Leman offers the most competitive pricing and best customer service compared to any other auto dealership that I have dealt with. Josh, Jerry, Brant, and Rocky are all fantastic to deal with!
Very personable experience. They got me set up with a 2017 used truck and gave me a generous trade in offer. They even made sure I got a detail and they filled a tiny windshield chip for me that we noticed. I highly recommend using this dealership if you want to know what you're getting. They know their stuff and they do a great job making sure you get a good and reliable vehicle. Talk to Bob Lowe, he's a great guy.
Had an extremely good experience buying a new vehicle at Sam Leman Ford. My salesman, Jim Zehr, helped me get the vehicle ordered with the configuration I wanted and needed. When I picked the vehicle up, the sales and financing staff did a wonderful and speedy job getting me into the vehicle since I had a long drive home. I know how aggravating purchasing a new vehicle can be, but this was about as good an experience that a person could have hoped for.
Was there the other day going to trade my mustang toward a platinum Ford. Could not strike a deal but staff was friendly and would go back again. Adam Simpson was very helpful
I had a great experience at Sam Leman. Jimmy Gordon helped me buy the car I wanted. He gave me all the time I needed and even went with me to take the car to a mechanic. He was polite and all the people at Sam Leman were wonderful.
Adam and Amy in finance took excellent care of us and got me better financing! Truck was pulled up in rain and ready for me which I appreciated
I started looking for a truck about 2 months ago. Jerry from Sam Leman Ford worked with me and patient with me. They stayed late while I made my decision and it took a while. Defiantly recommend asking for Jerry. Thanks Sam Leman Ford
DeAndre was very professional, and personable. He asked questions, and sought a clear picture of what I was looking for. The entire process took place in a relatively short time. I bought the Escape.
I have bought many cars through Bob over the years, both new and used and have never regretted any purchase. When friends or co-workers have had issues finding a trusted sales person, I have sent them to Bob and he has never disappointed!
We had a very good experience with Sam Leman Ford and Russ Lester. Russ was very helpful and pleasant. Russ was very resourceful and made the process more enjoyable than I imagined.
If you're in the market for a car, I highly suggest finding Bob Rowe @ Sam Leman Ford!!!! To say the least, he's a miracle worker. We literally were those picky customers that imagined a (used) car in our heads (knowing it prolly didn't exist) and within a day he found it! (Or made it 🤷🏻‍♀️). Either way he's THE BEST salesman you could possibly ask for. And he's HONEST!!!!, not just trying to sell you anything to make a sale, but really sell you what you want. EXCELLENT !!! 100 ⭐ REVIEW. Even signing papers was in and out. And they stayed past closing for us.
I worked with Zhora Tupicins(Z) who was very knowledgeable about the new F150. Overall a great buying experience. I would recommend this dealer and will return.
Talk about fast, efficient service.......yes!!! Jarrod was very professional, very knowledgeable about the vehicles and what they had to offer. I was so impressed and so in love with the car and his service that I dropped CASH 💰!!!! I'm simply in love with my new car ❤️. Go check them out!!!
We recently worked with Russ Lester to upgrade our 2003 F150 XLT with a state of the art 2021 F150 King Ranch. We were impressed by the quality of the vehicle as well as the helpfulness of Russ, TJ, and Benji in making the purchase a reality.
I had a really good experience at Sam Leman. Jarrod Baxter was terrific, easy to work with and not pushy. Jarrod and the Sam Leman team took great care of me and made buying my car a pleasure - thank you!
I inquired on a truck from out of state. Very quick response from Jerry my salesperson. He sent me video right away and walked me through the out of state purchase. I could of bought one local but defiantly worth the drive. Jerry was great to work with.
Inquired on email about Dodge challenger. An had lots of questions since I was coming from Michigan. Answered all my questions up front. Arrived and had everything ready for me to get in and out quickly. Highly recommend Jerry
I live about 300 miles from Sam leman Ford, but thanks to the hard work of Tom Smith and Tyler Hahn I now drive a cactus gray 2021 Ford ranger tremor lariat, the truck of my dreams. without ther patience and dedication it may have been many many months before I ever got a truck, let alone one that I really wanted

Welcome to Sam Leman Ford
The team at Sam Leman Ford would like to welcome you to our Ford dealership in Bloomington! There are many car dealerships in Bloomington, and we're glad you chose us. With the latest new Ford models in stock and a wide selection of used cars for sale, we're confident that drivers from Normal to Champaign will be able to find their ideal vehicle for an affordable price. If you're searching for a new vehicle, explore our extensive new Ford inventory! We offer the latest and greatest options. If you're sticking to a strict budget, you can get a great deal on a dependable used car as well. No matter what type of vehicle you choose, the Sam Leman Ford professional finance team will help you get settled with a competitive financing or lease plan.
Explore the New & Used Vehicle Inventory at Sam Leman Ford
Sam Leman Ford is a new and used car dealership wrapped into one. If you're looking for a new model, our Ford dealership has plenty of options for you. Explore the new Ford F-150 truck, new Ford Explorer SUV, and more. Our sales team will help you decide which is best for you! And there may be other used car dealerships in the area, but you'd be hard-pressed to find the vehicle selection that we offer. Whether you're looking for a used Ford or a pre-owned vehicle of another make and model, we're confident you'll find something at our Bloomington dealership. When you're ready, visit us near Decatur to take a test drive at your convenience! While you're here, you can work with our experienced finance team to seal the deal. Feel free to apply for financing online to kick-start the process.
Rely on Our Ford Dealership for Maintenance & Repairs
As your full-service Ford dealership, Sam Leman Ford offers a state-of-the-art service center staffed with techs trained in Ford models and experience working on all cars around Bloomington. Whether or not you drive a Ford, you can rest assured that your vehicle is in good hands at our Bloomington dealership. Need an oil change for your Ford F-150? Is your used Ford Taurus giving you trouble? No matter the problem, you can expect our expert technicians to get the job done right the first time. And we always use genuine OEM parts for repairs. Schedule an appointment today!
Visit Our Bloomington Ford Dealership Today!
For years, Bloomington drivers have counted on the high-quality vehicles and services found at Sam Leman Ford, and we look forward to living up to our reputation every day. Stop in and see us today, or contact our staff with any questions! For any further questions, or to schedule a test-drive, don't hesitate to give us a call at (309) 245-0766 or (309)245-0312, or stop by our dealership. We look forward to being your new and used car dealership of choice in the greater Springfield area!
Contact Us
Sam Leman Ford
1508 Morrissey Drive
Bloomington, IL 61701
Sales:
309-807-0859
Service:
309-590-3293
Parts:
309-807-9815
Directions